Mango Pulp Puree Processing Machine Plant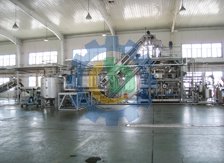 Mango Pulp Puree Processing Machine Plant--Turnkey Project
Application: Mango Pulp/Jam/Puree, Apple Pulp/Jam/Puree,Pear Pulp/Jam/Puree
Mango Puree Flow Chart:
Raw material —— Hairbrush Cleaner
——Plate Elevator —— De-core & Jam Beater——TSB Buckets——Screw Pump——Enzyme Destroyer——Colloid Mill——TSA Buckets ——Screw Pump —— Blending Pot/2sets ——Vacuum Deaerator——Screw Pump ——Tubular Sterilizer ——SS Storage
Features:
4. including mango decore and jam machine, grading machine, sterilzier etc.
1.
Handling capacity: 1 ton per hour for mango, papaya.
2.
Full 304 stainless steel.
3.
Area requirement : aroun 200 cumbic
5.
Technology, research and development
6.
Only by starting from the market demand, can we produce products keeping pace with the market,create values for users and promote competition force of products so as to achieve the goals. Eyesight is the judgment to orientation. Incorrect orientation with high potential is useless. Correct orientation even with slow development will surely achieve success.
7.
Our goal: all products provided to users are designed and manu-factured by our company through adopting
the latest and optimal technology with the most reasonable performance-price ratio.
8.
Whole set production lines undertaken
Apple and pear series whole set production line
Orange, tangerine, shaddock and lemon series whole set production line
Carrot series whole set production line
Ketchup and tomato sauce series whole set production line
Cactus and aloe series whole set production line
Jujube series whole set production line
Pawpaw, pumpkin and megranate series whole set production line
Sea buckthorn, medlar, blueberry and waxberry series whole set production line
Olive, green plum, peach, apricot and plum series whole set production line
Various dehydrated and dried vegetables and clean vegetables series whole set production line
Fruit juice, fruit wine, fruit jam and preserved fruit series whole set production line
Various plant extracting and concentrating series whole set production line