Contact Us
Call Center:
+86-010-87265920
+86-372-2190222
Fax:+86-372-2190333
Mobile Phones:
+86-18608032780
+86-13213263322
E-mail:info@bid-machinery.com
Products
 
  Home>>Food Processing>>Contents

Garlic Clove Separator and Peeler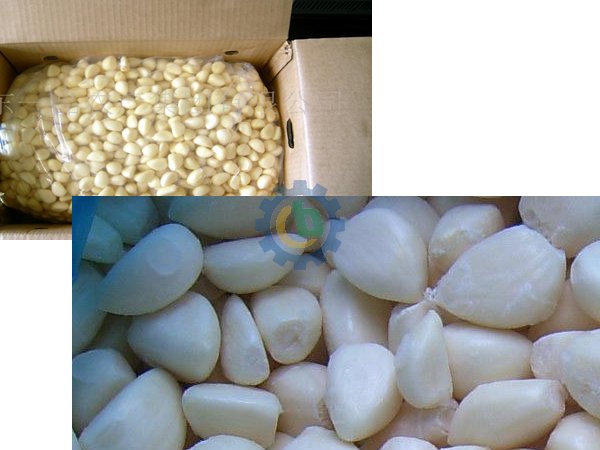 A. Garlic Separator
1.Brief Introduction
This machine is used to separate garlic bulbs into cloves. The working principle is using standard rubber rollers for food product to break the garlic bulb into clove. It's also applied the exclusive developed pressure adjustable method to ensure the products for different size of garlic bulb. Easy operation makes the clove without damage and high separating rate. With small size and high efficiency, even a single person is able to operate this machine.
Specification
2.Technology parameters

| | | | | | |
| --- | --- | --- | --- | --- | --- |
| Model | Power | Voltage | Capacity | Dimension Size | Remarks |
| GS-100 | 1.1kW | 380V or 220v | 150-300KG/H | 600*500*1000mm | Without blower |
| GS-300 | 2.2kW | 380V or 220V | 300-700KG/H | 940*800*1340mm | With blower |
B. Garlic Peeling Machine/Dry Peeler
1.Brief Introduction
This machine uses
compressed air as the motive power source, Produced a strong wind at the roundabout near the natural peeling garlic. This machine comprises two parts, the dry feeding trough has the hot blast to circulate the function, and even in the humid climate would also have to be dry garlic state. Peeling of the air compressor used as the driving force and energy saving. Apply to the market, food plants, garlic, and other industries use occasions.
2.Technology parameters
Model

Capacity

Air Compressr

Power

Air Pressure

Weight

Air Exhausting

Power Source

Description

JH-BS50

50-100

KG/H

7.3kW

9-10kg/cm3

70KG

Over 1200 L/min

or 10HP

220/380 ACV

(According customer's

supply source)

Food grade, with CE certificate,

peeling the garlic into the garlic kernel,

the whole material of this machine

is made of stainless steel.

JH-BS100

100-200

KG/H

7.3kw

9-10kg/cm3

140KG

Over 1200 L/min

or 10HP

JH-BS200

200-300

KG/H

7.3kw

9-10kg/cm3

220kg

Over 1200 L/min

or 10HP
Tag:  
garlic separator
garlic processing machine
garlic peeler





 
/table>