Big Production Chili Powder Grinding Plant
2.5tph Chili Grinder Plant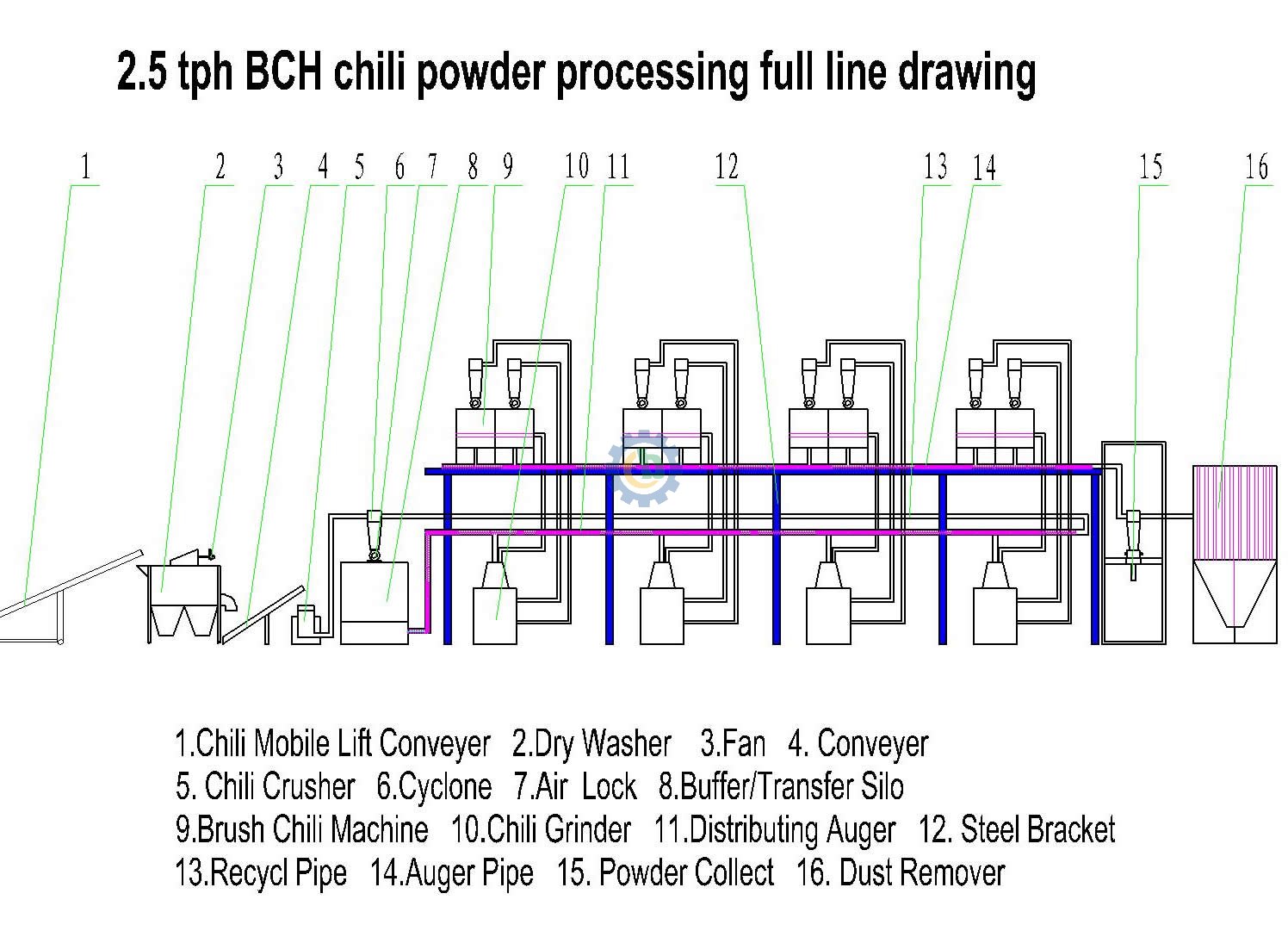 Instructions
This BCH60X2 automatic chili mill adopts the high-technology aboard, and combining the actual experience.
It is BCH60X2 according the length and quantity of the grinding roller. This BCH60x2 automatic pneumatic
chili mill are mainly used for grinding wheat, corn, rice and others grain pellets, and applied in the large
and middle scale of flour factories.

Features of BCH60X2 series automatic chili mill:
1. The automatic pneumatic chili mill adopts the whole pneumatic control, has the advantages of high-sensible
action, neat and tidy, no pollution to the environment; It can be operated both in separately and centralized.
2. The feeding system adopts double and tilting grinding rollers, together with the drive to achieve stability
and reliability; the automatic pneumatic chili mill also has a feeding servo system that makes the feeding equal.
3. The automatic pneumatic chili mill has one sensible impulse that can control the quantity change of materials
to achieve self-control feeding together with the servo system.
4. The automatic pneumatic chili mill has a shock pad that can control exclude the vibration when flour grinding.
5. The automatic pneumatic chili mill has one set of special roller handling tools to make the process safe,
convenient, time-saving, and labor-saving.
6. The automatic pneumatic chili mill is with the advantages of novel structure, discharging equal, less noise,
good stability, easy operation, convenient maintenance, etc.
Specifications:
Model

BCH60*2 Grinder Set

Output

2.5T /60 mesh chili powder

Grinder Power

22kW *4

Fan Power

4kW*4

Brusher Power

3kW*4

Roller dimension

(Dia.x L) (mm)

250x600/

Fast Roller Speed(r/min)

400-600

Speed Ratio(Fast Roller & Slow Roller)

1.25:1, 1.5:1, 2.5:1

Feeding Roller Diameter (mm)

75
Preventive Maintenance:
Keep hands out off the rollers.
The rollers are not allowed to contact directly.
Overloaded running prohibited.
If there were too low powder yield, please check if the cylinder sieve were blocked or not. You can use the brushes
to clear if the sieve was blocked.
Components:
Model & Items
Conveyers, Powder distributing and collecting Cyclones & pipes
Cylinder/ round sieves
Motors/electric control cabinet
Fans; Unloading valves
Mill body(rollers);powder brushers
hoppers ; pulley; shelters