5HTZ-5.0 Continuous Grain Dryer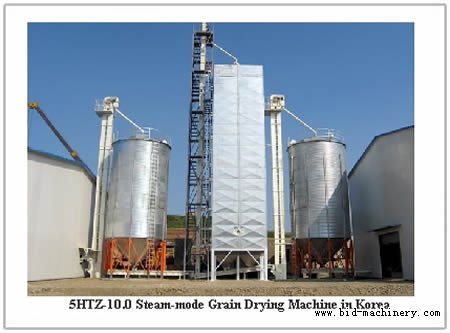 5HTZ-5.0 Continuous Grain Dryer
1. Working Principle: The cold air and the hot air heated by burner (or stove) go into mixing chamber, turn into warm air through air distributing chamber. Warm air drien by pressure goes through the Pentagon box to drying section and passes through the material layer. Raw material contacts with warm air flow from all directions, so that the moisture in raw material will be vapored and taken to exhaust channel, passing through ventilation fans to outside. Therefore, the grain has been dried by this progress.
2. Usage: This machine is suitable for rice, corn, wheat, cotton seed, and other types of seed drying operations, also apply to drying grain. It can be used independently, also can be used as a part of seed processing complete sets.
3. Technical Features
 Variable cross-section structure, high drying efficiency.
 Pneumatic Reciprocating discharge institutions.
 Closed-loop control principle, PLC control, touch screen interface, well interactive, easy to operate.
 Fuel types: light diesel oil, coal and gas and other fuels.
4. Technical Parameters:
Productivity :Moisture Reduce 5%
Total power (kw): 11.6
Size (mm): 6020*1570*9150
Cubage of drying storehouse (m3): 11
Cubage of storage silo (m3): 30